We all dream of a stable career. That's why, in pursuit of the best vocation, we not only validate the pay scale but also evaluate some of the crucial aspects like career growth, status, job security, and so on. Nonetheless, we live in the age of opportunities. Technology has emerged as a windfall for the modern-career sector. So, a vast range of career opportunities has been instigated in various job sectors. What thrills us is the fact that diverse industries ensure a diverse degree of "highest" pay scales. That's why it will be illogical to compare the pay scale of one sector with that of the other.
While speaking of some of the highest paying jobs in India, the industries that offer a handsome pay scale include Healthcare, Banking, financial services & Insurance (BFSI), Marketing, and Data Industry. New-age career options like Data Science, Machine Learning have already started replacing traditional jobs globally sending them on the list of highest-paying jobs. So if you are looking for a lucrative yet stable modern-day career in India, here are the top 10 highest paying jobs that are deemed to boost in 2021 and beyond.
#1. Medical Professionals (Doctors & Surgeons)
The ongoing coronavirus crisis has clarified the importance of healthcare professionals. Thanks to the rapidly advancing technology for catering to the need for inexpensive yet best healthcare services in both the public and private healthcare sectors. Likewise, the healthcare industry is expanding tremendously worldwide. According to recent statistics, India is presumed to be ranked amongst the top three healthcare markets due to the quick aggregate expansion of the healthcare industry by the end of 2020.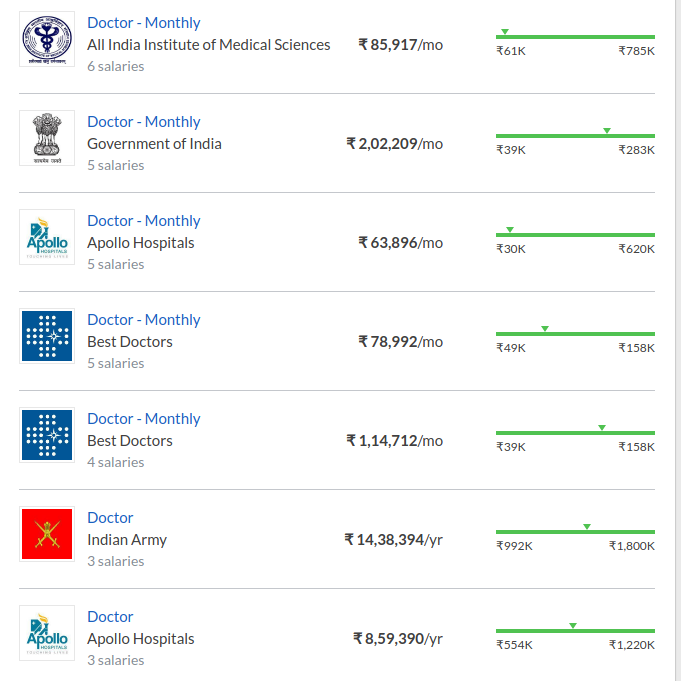 Medical Professionals Salary:
The standard pay scale of medical professionals in India is considered to be around 10 LPA. Over 25% of medical professionals earn an annual package of 20 LPA. The standard income of a General Physician in India is Rs. 6,89,397 LPA and that of a General Surgeon's salary is Rs. 10,78,167 LPA.
#2. Blockchain Developer
In India, Blockchain tech constitutes a core part of the government's Niti Aayog policy along with other frontier technologies like Artificial Intelligence(AI), Machine Learning(ML), and the Internet of Things(IoT). That's why the Indian government is scheming to invest extensively in Biotechnology. In India, investment in Blockchain tech has risen to a hefty 103.4% (US$ 154.8 million) throughout 2018. Blockchain enterprise is further predicted to rise at a CAGR of 47.3% (increasing from US$ 289 million in 2019) and attain US$ 4,348.3 million by 2025.
Salary: The average salary for Blockchain technology in India is Rs. 8,01,938. Due to the scarcity of skilled professionals, organizations extend a handsome pay-out for the basic skills.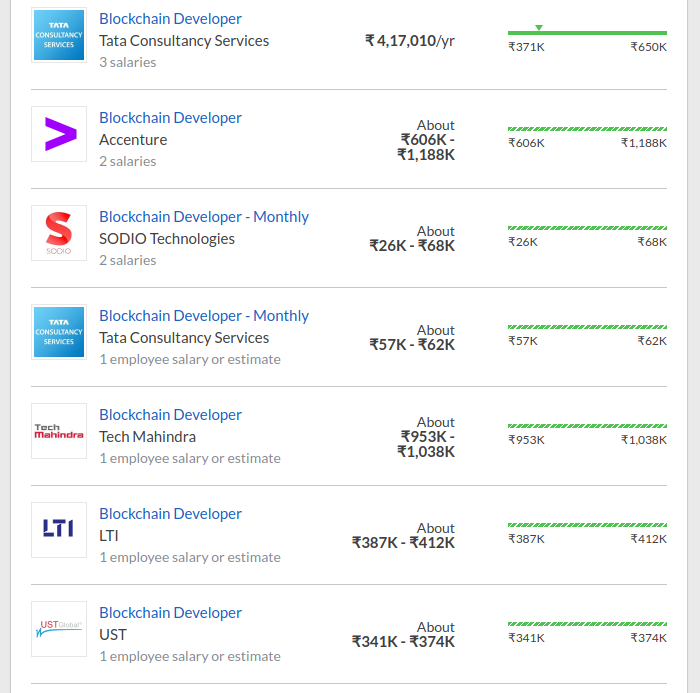 #3. Machine Learning Experts
Machine Learning (ML) is a department of artificial intelligence (AI). At the present age, ML is vigorously incorporated across various industries, such as IT, Banking, financial services & Insurance (BFSI), healthcare, transportation, e-commerce, education, etc. Even though the adoption of Machine Learning technology is at a budding stage in India, the AI and ML market is projected to expand quickly. The recent stats indicate that the investment in the Indian AI sector will expand at a CAGR of 33.49% by 2023.
Salary: The average Machine Learning engineers' (at entry level) salary in India is INR 691,892.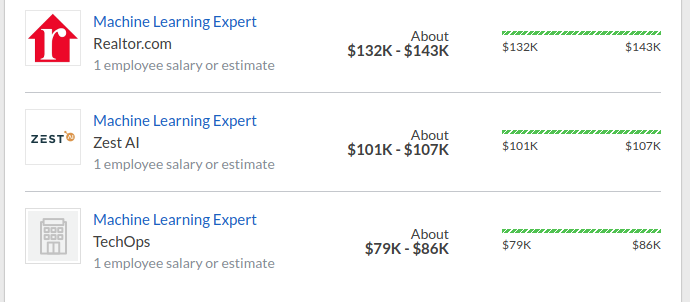 #4. Data Scientist
While several careers have been around for ages, data science is a much new and advancing career alternative offering lucrative packages. Also, there is a huge advantage to taking up Data Science as a career. As there is a 40% rise in demand practically for data scientists since January 2019 and more than 300% since 2013.
Salary: Data Science offers a salary between 4 – 12 lacs to certified experts even if they have limited or no work experience.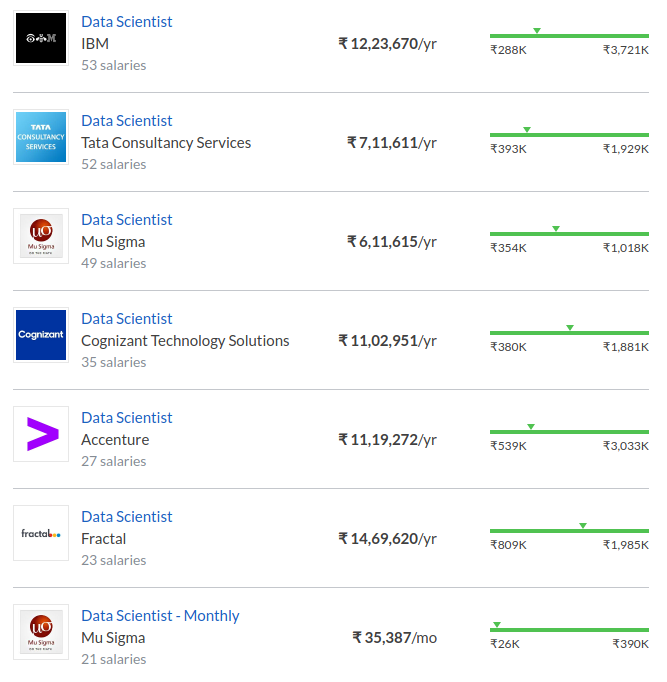 #5. Investment Banker
India boasts of a diverse banking and financial services network that's rapidly expanding. Thanks to the quick improvement of prevailing economic establishments and new performers entering the industry. The investment banking sector in India is developing steadily. One of the highest paying jobs in the world, an investment banker assists their client to invest their money wisely for the biggest possible returns. It has always been one of the best jobs in India.
Salary: The standard salary of Investment Bankers in India ranges from 4 – 40 LPA making it one of the highest-paid jobs in India.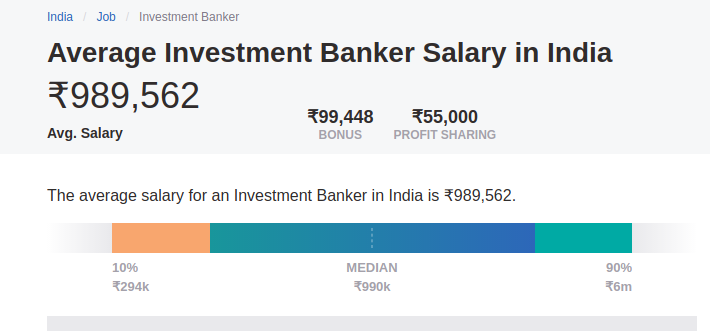 #6. Chartered Accountant
In 2018, the number of CAs in the country stood at about 2.82 lakhs. Presently, India faces a massive dearth in this industry. There are only 1.25 lakh full-time experts for the 6.8 crore taxpayers in the country. Since the number of taxpayers in India remains to grow each year, the need for CAs also rises every year. From gigantic corporations to small firms, CAs are employed to assist as financial advisors.
Salary: The standard salary of a CA ranges from Rs. 6-7 LPA to 30 LPA, relying on expertise and experience. The global pay scale can rise as high as 75 LPA.

#7. Full Stack Software Developer
As per the latest stats, the Indian IT industry is predicted to prosper to US$ 350 billion by 2025, producing over 2.5 – 3 million employment opportunities in the country. It verifies that the need for Software Developers, including Full Stack Developers will skyrocket in the prospective years.
Salary: The standard salary for full-stack developers varies from 4 LPA – 1,375,000.

#8. Product Management
India's industrial characteristic is rapidly improving. From IT, Data Science/Big Data-based companies, retail, telecom corporations, FMCG enterprises including every industry at present age follows a customer-centric policy. Hence, product design, development, and management are rapidly putting up with the lead. Generally, Product Management has developed as a critical function in almost every industry. The demand for Product Managers in India is likely to multiply in forthcoming years.
Salary: According to LinkedIn, the standard salary of Product Managers in India is INR. 14,40,000 LPA – 26 LPA.

#9. Management Consultant
The Management Consulting industry is constantly growing at a CAGR of 30% in India. The Associated Chambers of Commerce and Industry tallies that the Indian Management Consulting industry will yield Rs. 270 million in incomes by the end of 2020. Roughly, there are over 10,000 consulting corporations, with around 6,000 corporations founded in just 4 metro cities – Delhi, Mumbai, Chennai, and Kolkata.
Salary: Stats reveal that the average salary of a Management Consultant in India is Rs. 11,49,770 LPA – 23 LPA.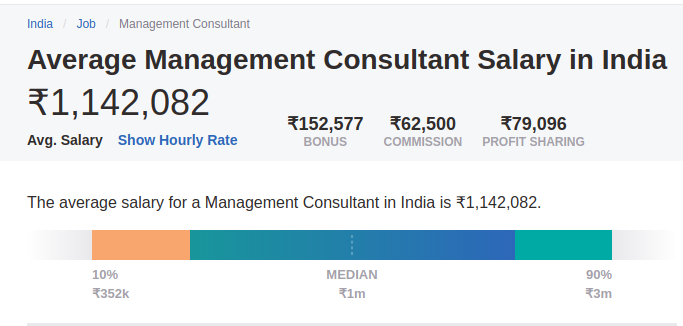 Also Read: Jobs That Are Going To Be In High Demand Once The Lockdown Ends
#10. Marketing Manager
Regardless of the industrial sector, Marketing is one of the core aspects of a business. Thanks to quick digitization and technological growth, the marketing industry is thriving by leaps and bounds. For instance, India's Digital Marketing enterprise will outperform INR 225 billion by the end of 2020, generating over 20 lakh jobs. A growing number of corporations require Marketing experts who can add value to the business.
Salary: The standard salary of a Marketing Manager in India is Rs. 7,01,976 LPA – 22 LPA, making it one of the highest-paid jobs in India.
The prospect for decent, high-paying jobs exists in every sector. You only need to be clear about your purpose, understand which road to take, and persevere to make the best of the given opportunity.