Inspiria YouthRun 5.0: Overwhelming Response and 2X Energy, Excitement, and Enthusiasm.
Inspiria Knowledge Campus successfully organized Inspiria YouthRun 5.0 on the 11th of December 2022. The Inspiria YouthRun has become the talk of the town among youth. The event witnessed an overwhelming response from the 1000 participants hailing from Sikkim, Darjeeling, and the suburbs of Siliguri. Irrespective of age group and gender, runners participated in inspiria youth run 5.0 with much energy, excitement, and enthusiasm. The Inspiria Youth Run is held under 2 different sections i.e. 10K and 5K. Raising awareness of physical health and wellness is the prime motto behind organizing the youth run.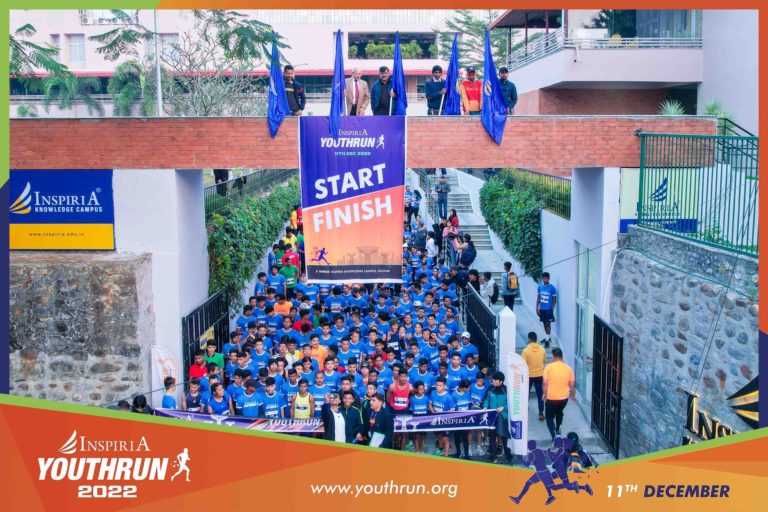 1000 runners along with 20 bike marshalls ran in the Inspiria YouthRun 5.0 that started from Inspiria Knowledge Campus. The participants covered Himachal Vihar, City Centre, Uttarayan, and finally ended at Inspiria Knowledge Campus football ground. In the 10K segments, Suraj Thami stood the 1st position followed by Nitesh Balmiki 2nd Position and Pranay Lepcha 3rd position. In the school category, Atulya Saha stood 1st position followed by Nobar Deb Barma 2nd position and Krishna Kumar 3rd Position.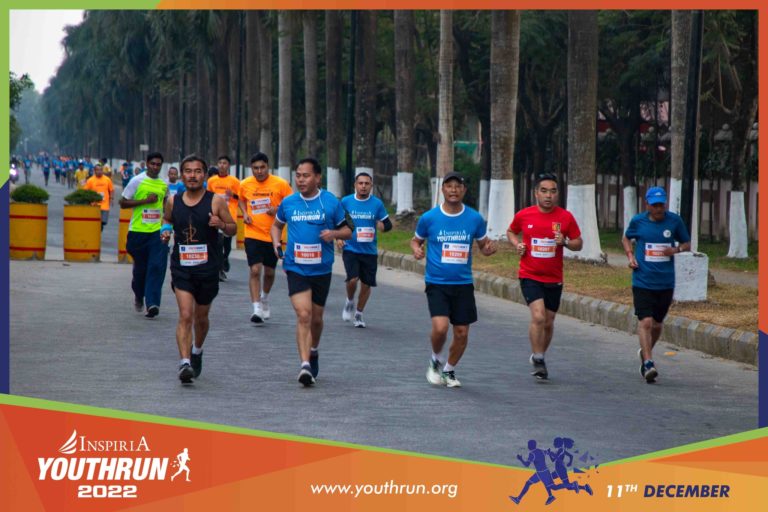 The winners are awarded YouthRun Trophy under different categories and every participant received a certificate of appreciation and an Olympic size medal. Apart from this, every participant received refreshments that include healthy drinks and breakfast. To create more awareness about physical fitness and to encourage the participants 17 Inspiria YouthRun Ambassadors participated in the Youth Run 5.0.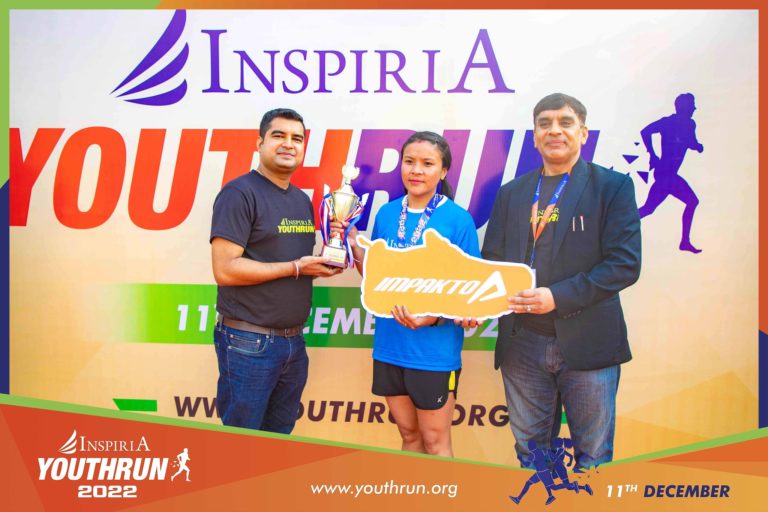 The participants reported at 06:00 am in the Inspiria Knowledge Campus and some of the ardent fitness enthusiasts reported before the allotted time. Before the run, each participant received Inspiria YouthRun 5.0 exclusive T-shirt, BIB, and a warm-up session was initiated with electrifying beats of music along with a Zumba session, the participants thoroughly enjoyed the session. The Inspiria YouthRun 5.0 started at 06:00 am and concluded at 07:30 am.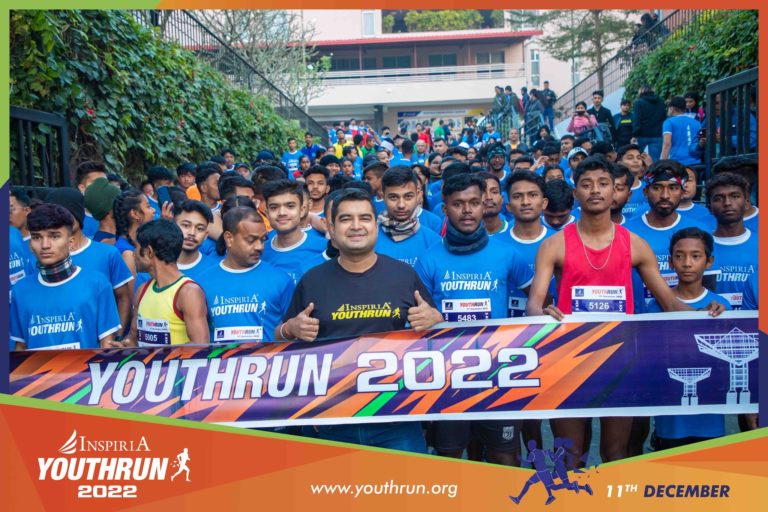 It was an unusual Sunday. Yes, the cold gush of wind did not give any chills to the skin because of the hype and warmth of Youth Run, 2022. Inspiria Knowledge Campus organized another most anticipated event, Youth Run 2022 with a vision of a healthy mind and active body. The day of the event was set by the enthusiastic and sparkling spirit of the participants who ensured that the purpose of the event remains on point.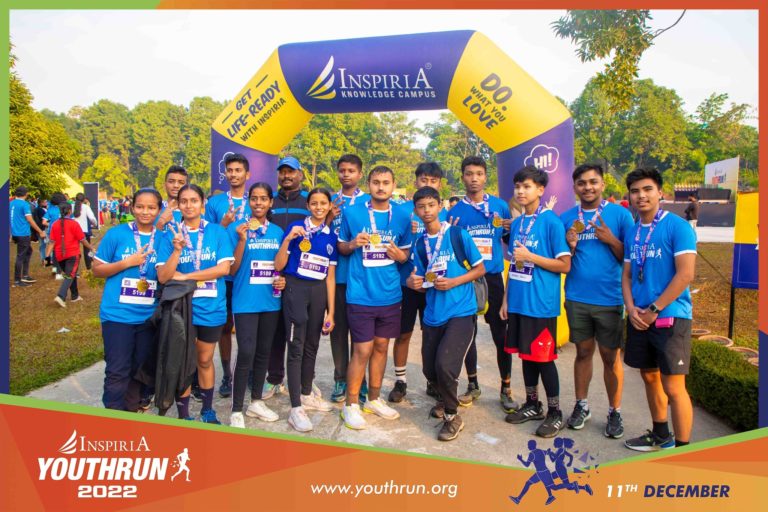 With the purpose of educating people to lead healthier lifestyles, the participants were extremely excited. The management maintained the safety guidelines and the campus was properly cleaned to provide sanitation as well.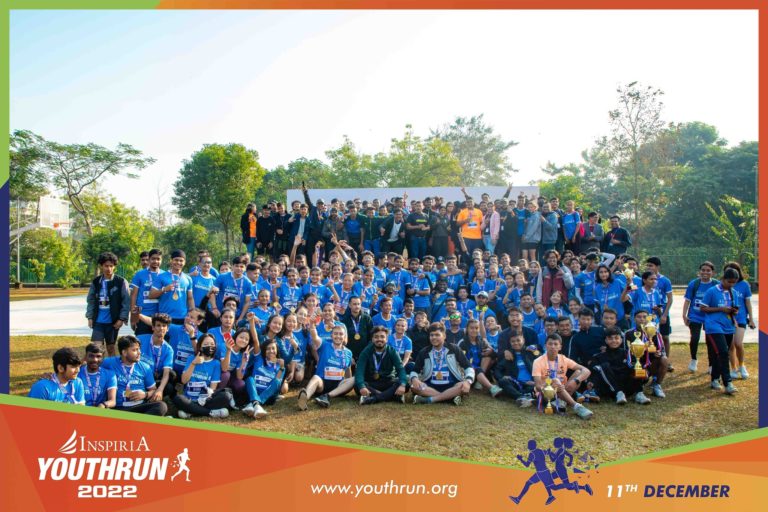 Inspiria is known for organizing and hosting spectacular events like Youth Run to continue the zeal among young people. With engaging and lively participants, any event is ought to achieve success and further create a healthier and more active community.