So you aspire to become a digital marketing professional which is why you've chosen to either pursue a traditional BBA in Digital Marketing or obtain online certifications in the field…Thats great!
With all the brands shifting to digital mediums for their promotion, digital marketing marketing sure has a plethora of opportunities for BBA Digital Marketing graduates.
But a degree and certificate are not enough in this highly competitive field.
You must be well versed with all the digital marketing tools that are in trend right now to have a competitive edge or to make your life easy and efficient.
The best digital Marketing tools
What is Digital Marketing
Digital Marketing in its simplest form is promoting stuff online. You use websites, social media, emails, and other internet tools to reach people and get them interested in what you're selling or offering. It's all about using the internet to connect with customers and make your business grow.
Let's Check out some key components of Digital Marketing!
Website
A well-designed and user-friendly website is the cornerstone of your online presence. It serves as your business's virtual storefront and central hub for all digital marketing efforts. A good website should be visually appealing, easy to navigate, and mobile-responsive.
The website as you know is where you showcase your products or services, provide essential information about your business, and encourage visitors to take desired actions, such as making a purchase or signing up for a newsletter.
Tools for website marketing include: WordPress, WIX, Magento
Also read: Advantages of Studying Digital Marketing
SEO (Search Engine Optimization)
SEO is the process of optimizing your website and its content to rank higher in search engine results pages (SERPs) like Google. The goal is to make your website more visible to people searching for keywords related to your business.
SEO involves various techniques, such as keyword research, on-page optimization, off-page optimization (backlink building), and technical SEO (improving site speed and structure). A well-executed SEO strategy can drive organic (unpaid) traffic to your site and increase its visibility.
Tools for SEO (Search Engine Optimization) include: Google Analytics, SEMrush
Content Marketing
Content marketing is a strategic approach focused on creating and sharing valuable, relevant, and consistent content to attract and engage your target audience. This content can take many forms, including blog posts, articles, videos, infographics, podcasts, and more.
The key is to provide information that addresses your audience's interests, or questions. Content marketing not only helps establish your expertise but also builds trust with your audience and can lead to higher conversions.
Tools for Content Marketing include: Flair.AI, Chat GPT, Hemingway Editor
Email Marketing
Email marketing involves sending targeted emails to individuals who have shown an interest in your business, such as subscribers or previous customers. It's a powerful tool for nurturing leads, retaining customers, and driving sales.
Email campaigns can include newsletters, product updates, promotional offers, and personalized content. Effective email marketing relies on segmenting your email list, crafting compelling subject lines and content, and analyzing email performance metrics to refine your strategy.
Tools for Email Marketing include: Mailchimp, Constant Contact, ConvertKit
Social Media
Social media platforms like Facebook, Instagram, Twitter, and LinkedIn offer businesses a way to connect with their audience, share content, run ads, and build brand loyalty. Each platform has its unique user demographics and engagement opportunities.
Social media marketing involves creating a content calendar, engaging with followers, running targeted ads, and analyzing data to optimize your social media strategy. It's a dynamic space where businesses can showcase their personality, respond to customer inquiries, and build a loyal community of followers.
Tools for social media marketing include: Crowdfire, Meta Ads and Hootsuite
The Best Digital Marketing Tools in 2023 for Students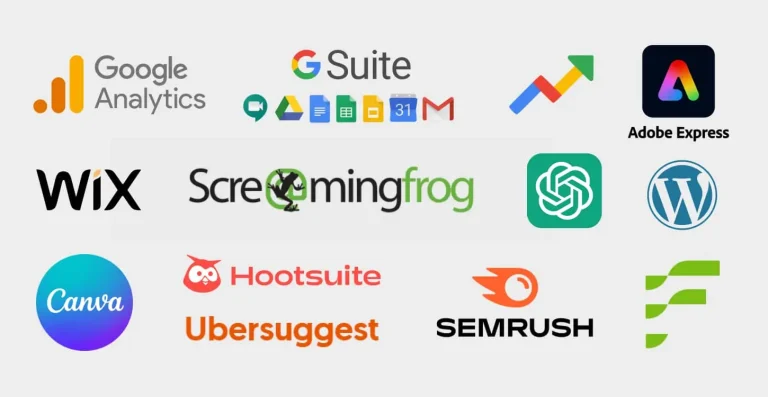 Google Analytics
Google Analytics is a goldmine of information for digital marketers. It provides valuable insights into website and app traffic, user behaviour, and audience demographics. This data empowers businesses and students alike to analyze visitor interactions, track conversions, and optimize their online presence for better performance and user engagement.
Rating: 8.4/10 Type: Free
Google Suite
Google Suite, which includes Google Docs, Sheets, Slides, and more, is a cloud-based productivity suite. It enables students to collaborate in real time, making it easy to work on marketing strategies, reports, and content creation together. With features like sharing and commenting, it's perfect for team projects.
Rating: 9/10 Type: Paid
Chat GPT
Chat GPT is an AI chatbot that can be integrated into websites and social media platforms. It engages with users, answers queries, and automates customer support, providing 24/7 assistance and enhancing user satisfaction.
Rating: 9.1/10 Type: Free
Google Trends
Google Trends is a treasure trove of data for digital marketers. It offers insights into what people are searching for online, helping students identify trending topics, keywords, and seasonal trends. This knowledge informs content creation and SEO strategies.
Rating: 7.9/10 Type: Free
Screaming Frog
Screaming Frog is an SEO spider tool that crawls websites, uncovering issues that might affect search engine rankings. Students can use it to find broken links, optimize metadata, and audit their websites for SEO improvements.
Rating: 9.2/10 Type: Free
Adobe Express
Adobe Express (Adobe Spark Post) is a user-friendly graphic design tool. It empowers students to create captivating visuals for social media, blog banners, and promotional materials. With templates and customization options, it's perfect for those without design experience.
Rating: 8.8/10 Type: Free
WordPress
WordPress is a leading platform for building websites, and it's great for students. It's easy to use and lets you design and manage your website without any hassle. You can customize your site with lots of plugins and themes to make it look and work just the way you want. WordPress is like a toolbox that helps students create their own unique online spaces effortlessly.
Rating: 8.5/10 Type: Free
Canva
Canva is an invaluable resource for digital marketing students, providing a user-friendly platform for creating eye-catching visual content such as graphics, presentations, and social media posts. Students can utilize Canva's extensive library of templates, images, and design elements to develop engaging marketing materials.
Canvas collaborative features make it an excellent tool for group projects and marketing campaigns, while its ease of use ensures that students can quickly grasp the fundamentals of graphic design, a valuable asset in the digital marketing landscape.
Rating: 9.1/10 Type: Free
Hootsuite
Hootsuite offers a powerful suite of tools for students to gain practical experience in social media management and digital marketing. With features for scheduling, monitoring, and analyzing social media content, Hootsuite helps students understand key aspects of digital marketing strategy. The platform also provides insights into social media trends, analytics, and certifications that boost job prospects, making it an essential tool for students pursuing careers in digital marketing.
Rating: 8.4/10 Type: Free
SEMrush
SEMrush offers a comprehensive suite of tools for keyword research, competitive analysis, SEO audits, content planning, and PPC campaign management, giving students practical experience and insights into the core elements of digital marketing.
SEMrush also offers insights into market trends and social media performance, helping students stay current and improve their strategies. Their certifications boost students' job prospects, and using SEMrush hands-on during their studies gives them practical skills essential for digital marketing success.
Rating: 8.8/10 Type: Free
Ubersuggest
Ubersuggest can be highly advantageous for digital marketing students, offering a range of valuable features like keyword research, competitive analysis, and website SEO audits. Students can use Ubersuggest to identify strategic keywords, gain insights into their competitors' online strategies, and improve website optimization.
It also helps in content planning and provides data on backlinks, helping students understand off-page SEO tactics.
Ubersuggest's user-friendly interface makes it accessible for students, and its practical application can enhance their digital marketing skill set, preparing them for success in the industry.
Rating: 8.2/10 Type: Free
Frequently Asked Questions
Which city in India is best for digital marketing?
Being the financial capital of India, Mumbai has a large number of businesses, startups and digital agencies which makes it a hub for digital marketing. Bangalore: Also known as the "Silicon Valley of India," Bangalore has a thriving startup ecosystem, and many digital marketing companies are based there.
Is digital marketing worth learning in 2023?
According to LinkedIn, Digital Marketing is also one of the top skills to learn in 2023 to boost your career.
What are the 4 main of digital marketing?
The 4 elements of digital marketing include 1) market research, 2) website development, 3) online advertising, and 4) social media marketing.
What are the six pillars of digital marketing?
The six pillars of Digital Marketing Incude SEO, social media, data analytics, campaign and branding, email marketing, and paid advertisements.