To mark the contribution of the handloom weavers of the country, the Department of Fashion Design and Management organized a handloom fashion show on the occasion of National Handloom Day on 5th August 2022 from 2:00 pm onwards at Inspiria Knowledge Campus.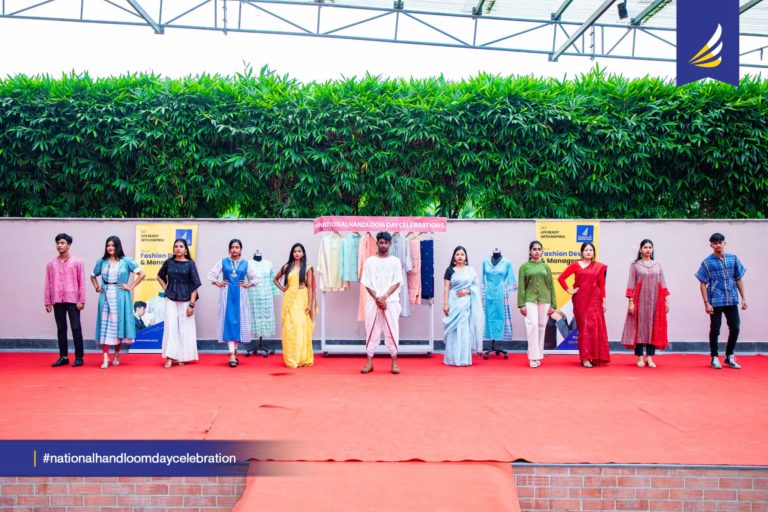 The event began with a short drama prepared by students and guided by respected Assistant Professor Mr. Taqui Haider of the Media Science Department. Firstly, the drama highlighted the struggles of the Indian handloom weavers community, shedding light on their hardships and difficulties. Additionally, the drama uplifted the rich craftsmanship of the weavers, demonstrating the beauty and artistry of their creations. In fact, the drama left the audience spellbound and it was thoroughly around India's rich heritage in producing supreme handloom fabrics beyond the reach of modern machinery.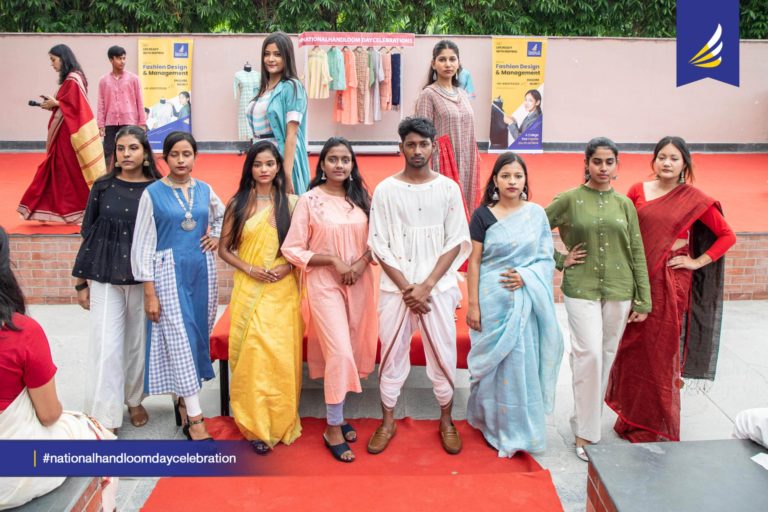 Furthermore, the students walked the ramp wearing the handloom costumes sponsored by Art Any India to exhibit the aesthetics and intricate art of Indian handloom fabrics. Respected faculty Assistant Professor Ms. Deepika Bansal and Ms. Payel Kumari from the department of Fashion Design and Management coordinated the entire ramp walk event.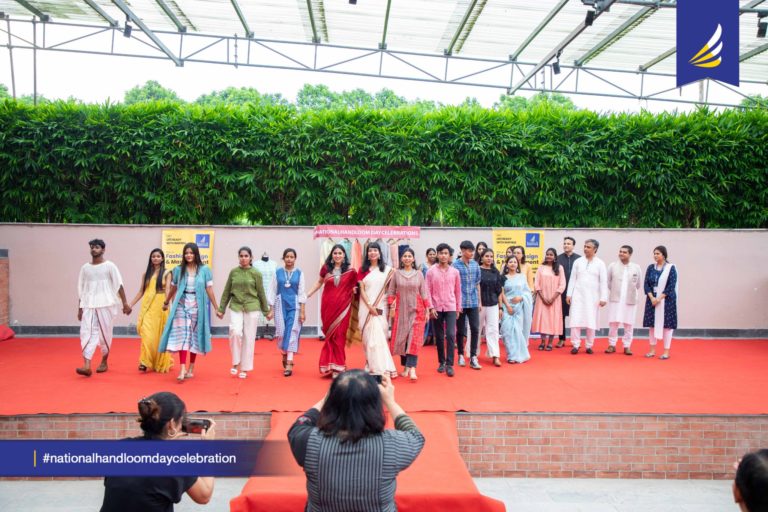 The professors, clad in cotton material costumes, walked the ramp as well to uplift the contribution of handloom weavers to the socio-economic development of the country. Furthermore, it was a lovely occasion, and the audience had an enjoyable afternoon.
The legacy of Handloom
Weaving handloom fabrics is a sophisticated art that requires much patience and skills. Every Indian state has its own handloom fabrics that uplift the essence of the cultural heritage of the country. In the present day, the demand for India's handloom fabric has increased worldwide.
Presently, The eco-friendly handloom business attempts to help weavers by offering skill development, improved technology, infrastructure, and simple access to raw materials and working capital. and the handloom weavers come with innovative designs and products with much diversification. The higher demand for quality fabrics facilitates the weavers to double the production.
Significance of the National Handloom Day
National Handloom Day celebrates the great effort of handloom weavers while also focusing on the massive contribution of handloom weavers to socioeconomic development. It is a day set aside to create awareness of handloom fabrics and their legacy among the youths.