Entrepreneurship – Venturing Ahead
Entrepreneurship is not a new phenomenon. Its been there in the society since ages as the spirit of doing business is infectious in itself; the desire to propel one's thoughts through business-led innovation serves to motivate and energize many in their quest to create wealth and find meaning in life.Entrepreneurship has been traditional as the "capacity and willingness to develop, organize and manage a business venture along with any of its risks to make a profit." In a larger sense of the term, an entrepreneur is able to recognize the commercial potential of the invention and organizes capital, machinery, talent, and other resources to transform an invention into a commercially viable innovation.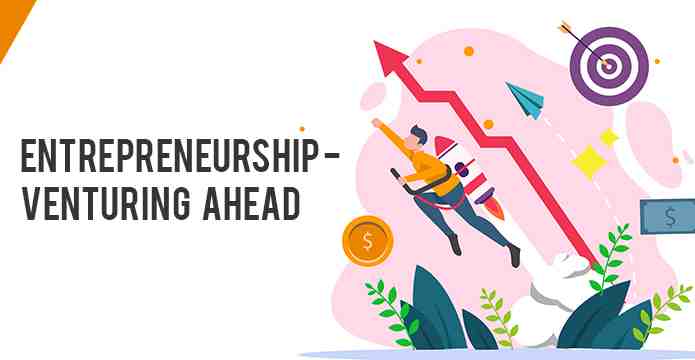 One may ask what exactly motivates an entrepreneur to start a business venture for the very first or continuously over time. This can be best answered by a number of factors that affect him. His upbringing, economic status, desire to create wealth, making a difference in the society by contributing meaningfully are all attributable factors. But what really differentiates an entrepreneur from a business person that is simply transactional in nature and lacks any significant innovation-led principle is the 'entrepreneurial mindset' of the entrepreneur which is a way of thinking that enables them to overcome challenges, act with decisiveness along with accepting responsibility for business outcomes along with the ability to take strategic calculated risks. Persons exhibiting an entrepreneurial mindset feel a constant need for upgradation of skills, to learn experientially from mistakes and taking action upon ideas by seizing opportunities perceived promising for the future.It has been observed by researchers that the entrepreneurial mindset is fixed in the pursue of all possible opportunities which they look upon through environmental scanning and the goal is to create an augmented value proposition greatly above the existing competitive offering through the deployment of innovation; the magical ingredient that surpasses known rules-of-the-game and at times lead to disruptive business innovation.
What are the psychic processes that underlie the entrepreneurial mindset among truly innovative entrepreneurs? Attitudes and intrinsic motivation are what separates a person with an entrepreneurial mindset from others. How happy an individual is and how positively he feels within himself in conceptualizing and asserting on a change of action and new ways of doing things are crucial success factors amongst many. A positive primary emotion such as happiness laid over the dimensions of pleasure, engagement, and meaning greatly decides how the aspiring entrepreneur feels and does with his life seen from the prism of a business proposition. Creativity as learnt from Bohm then becomes a spearheading element that enables the entrepreneur to look at, feel and think differently – all with a mind of practical imagination. Innovation starts with the right mindset and happiness quotient makes it a lot easier to view things with unprecedented clarity and vision – core elements that marries innovation with business processes resulting into a fruitful union.
'No one gets remembered for something they didn't do' is what most passion driven entrepreneurs strongly believe in and commit to; pushing boundaries of performance to lead change in every way.
What is Entrepreneurship?
Entrepreneurship is when you develop, manage and grow a business venture. It starts with a business idea which if developed and managed in a right way can turn into a multi-million dollar company. In a fast paced world with advancements in Science & Technology, highetend competition in the field of Education, build-up in the world economy and world becoming a global village, it is one of the most on-demand career paths. Not many people were familiar with the job profile 'entrepreneur' until the stories of start-up businesses like Google, Facebook and Instagram got around. Today a total of 83% of the Indian workforce wants to be an entrepreneur while the global average is 53% according to a Randstad Workforce Monitor Survey.
Becoming an Entrepreneur, is just as competitive as becoming an IAS Officer, a Doctor and an Engineer. To take an easy path on becoming an entrepreneur, taking up a graduation or post graduation course (MBA) on Entrepreneurship is recommended. Entrepreneurship comes in a plethora of kinds.
Types of Entrepreneurships
Scalable Startup Entrepreneurship
It is undoubtedly the most known kind of entrepreneurship. This is a kind of entrepreneurship when a person believing that their idea can change the world starts a business venture normally known as a start-up. A start-up usually starts with a very small group of people working on an idea or a business model. Venture capitalists invest in start-ups to help them grow as a business. Silicon Valley is the capital for many scalable startups. Google, Facebook, Instagram, Snapchat among many other businesses fall under this category.
Small Business Entrepreneurship
Small Business Entrepreneurship just as the name suggests, is a small venture in which the Entrepreneur is not looking for a large-scale profit. It is usually oriented to serve the local consumers. The Business is usually grown with the help of family and friends. It is also aimed for nothing more than supporting one's family and providing them with a certain lifestyle. In this kind of entrepreneurship, a single person owns and runs the business. Hairdressers, grocery store owners, local cafes owners can be considered as Small Business Entrepreneurs.
Large Company Entrepreneurships
Large company Entrepreneurship is when an existing company creates a new product or service. The rapid change and advancement in technology generates a lot of competition and pressure among large companies to bring something new to the table. This results in companies bringing in new innovations. This also helps them to sustain their otherwise defined life-cycle. Sometimes companies even buy other innovation enterprises so as to bring new products/services.
Social Entrepreneurship
As mentioned in the name, this type of entrepreneurship mainly focuses on solving social problems. The sole purpose and aim of this kind of entrepreneurship is to aid in the eradication of social problems. They don't aim for any profit and work towards the betterment of the society. Many Non-profit organizations bringing innovative ways to working towards climate change, racial discrimination, providing education for all and gender equality fall under this category.
Buyer Entrepreneurship
It is a type of Entrepreneurship, where an entrepreneur uses their wealth to acquire a business which they feel has the potential to be successful. They usually aim to grow the business and inflate the profit. Buyer Entrepreneurship carries less risk factor as a person generally buys a well-established business. After acquiring a business, they make all the necessary managerial changes and decisions to apply their vision to the company.
Innovative Entrepreneurship
The whole foundation of entrepreneurship is set on innovation. People come up with innovative ideas and work towards its development and growth. This kind of entrepreneurship solely focuses on innovation, and how an entrepreneur can bring that innovation to be something that brings change in the world.
Imitator Entrepreneurship
In this type of entrepreneurship, people take an existing innovation/idea/product and develop a product/service similar to it with some improvisation. It is a widely accepted concept among companies. Most of the time, companies work on righting the mistakes of other companies. Imitators work on improving and upgrading whatever the developer company has lacking in the product.
Importance of Entrepreneurship
Economic Development of a country- Entrepreneurship is one of the most important professional sectors contributing to the GDP of any nation. Every year many businesses take birth as a result of which there is a lot of growth in the country's economy.
Employment- With new businesses comes new jobs. Entrepreneurship generates a number of employment opportunities. From entry level positions to C-suite positions and even training, workshop and skill development programs for the unskilled.
Upgraded Standard Living- Entrepreneurship done well, produces a lot of economic growth resulting in a good and steady income for many. This automatically leads to improved the standard of living of all those associated with the business.
Also Read: What Can I Do With an MBA In Entrepreneurship Degree? Get Answer From Expert
Innovation- Entrepreneurship lives off innovation, adding a lot of value to technology and science. Ideas, innovations and developments led by entrepreneurs is why we are enjoying the luxury of so many things today.
---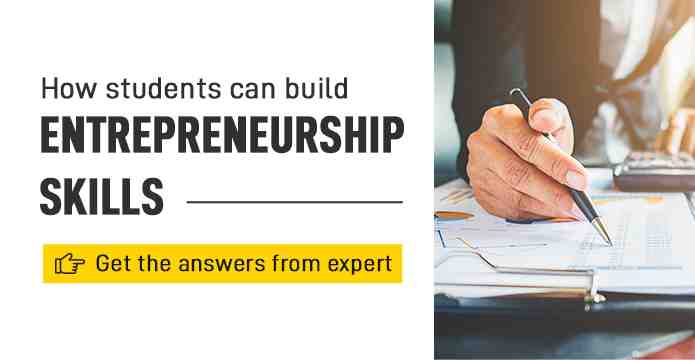 How Students Can Build Entrepreneurship Skills? Get The Answer From Our Expert
A successful startup requires both effective theoretical education and pragmatic skills. In today's age of information, anyone aspiring to be a successful entrepreneur can create a successful business by combining their startup ideas with their entrepreneurial learnings. If you aspire to build your own business, you should learn effective business concepts and strategies before you start your own. But what's more important is to learn, understand, and enhance your entrepreneurial skills and should be able to endure risks.
Once you enter the college, the prolonged duration of 3-4 years bestows you with enough time and opportunities to strengthen your practical skills and knowledge about a subject. It may not seem obvious in the beginning, but college days are the best time to recognize your entrepreneurial niche and expand your knowledge on the same. This blog explains how students can build entrepreneurship skills at the earliest to get success in their undertakings. So let's get to know what are the elements needed to become a successful entrepreneur!
1. Enroll yourself in a professional entrepreneurship course:
To do well in a startup or, a business, you need to be prepared to meet many practical challenges. However, to gain insights into a topic, theoretical knowledge is crucial. Theory helps you understand and explore the core of a subject topic rather meticulously. Theoretical knowledge fosters your reasoning ability and helps you work effectively in realistic areas. To enhance your entrepreneurial ability and skills, and to understand financial affairs, make sure you seek and pursue a valuable entrepreneurship course. Also, enhance your knowledge of marketing, finance, management to stay ahead of the competition. You can even enroll yourself in distance education via online entrepreneurship courses from the comfort of your home to avoid additional expense, to manage time, and to save yourself from the risk of covid-19 infection.
2. Pick a dedicated and reasonable business niche:
Once you make up your mind to start your business, the next crucial step required is to decide your business niche. Not every alternate business niche out there guarantees a profitable start. But, to be a successful entrepreneur, your niche should combine with your passion and as well meet the demands of the consumers and potential clients. You be precise, your niche should be a place where the majority are willing to spend money. So, have a committed niche that allows you to skillfully grow your audience and potential sponsors, clients, advertisers. Choosing a niche of your expertise and focusing on a specific area helps you steer your startup or, your business towards a constructive direction.
3. Understand and practice evidence-based analysis:
Any new startup or, entrepreneurship calls for serious analysis and methodical assessment. In a rapidly transitioning modern world, an entrepreneur should understand the importance of experimental research, data analysis to thrive amidst the cut-throat competition. So while you are still pursuing your professional entrepreneurship course or, partaking in an internship, ensure to develop your perspective and knowledge in an exploratory manner. In a business, it's not the instinct that guides but the data and facts that reimburse the hard work, functionality, and labor strategies.
4. Ensure to participate in a startup event:
To stay motivated in your pursuit to achieve your dreams, make sure to stick with like-minded people with similar purposes. The best way to locate goal-driven entrepreneurs is to seek them in potential zones such as Startup Events (both manual and virtual events). Partaking in startup events not just reinforces your skills but as well grants you the indispensable analysis of your startup ideas, strategies. Likewise, the event as well connects you with the community with similar purposes. Startup events are the best place to get yourself reviewed, counseled, and approved by experts, professionals, and authorities. Being a part of a startup event enables you to revise your existing ideas or build a new one. You can pitch your ideas to the hosts and other aspirants. If your business idea wins, you can launch it with your team or a partner. Startup event is the best place to connect with the like-minded community and thrive. It as well helps you build better connections with potential partners and sponsors, specialists, and experts.
5. Build your network:
Networking is the key trait to succeed and grow as an entrepreneur. Whether it's at your college or, at a Startup Event, make sure to meet and communicate and establish connections with new acquaintances. Another best way to expand your professional connections is via LinkedIn. Create an impressive LinkedIn profile and connect with the ambitious and like-minded aspirants, professionals, experts. You can learn from your connections through their share of testimonies on failures and achievements. You can connect and communicate with the experts and professionals to learn from their bunch of past experiences and narratives to enhance your learnings to achieve your pursuit. Further, make sure to develop sound connections with your peers and create some space for potential partnerships in the future.
6. Volunteer and do an internship:
It's not only the classrooms and assignment that amounts to be a success in a career but practical learning that matters equally as the former. One of the best ways to gain insights on practical knowledge in business operations is through the internship program and by volunteering. Indulging in both can benefit you with pragmatic experiences such as teamwork, team management, decision-making skills, industry knowledge, solving real-life problems, leadership skills, and so on. Internships and volunteer work is also a great way to increase your network. More importantly, volunteering and internship can enhance your resume that might impress your future sponsors, employers, advertisers, or clients.
7. Improve your communication
Effective communication is a crucial trait needed in an entrepreneur. No matter how highly intuitive or smart you might be, effective communication is mandatory to make your endeavors prosper. So, while you are still at college, make sure to learn and enhance your verbal and written communication. Partake in public debates, presentations, and speeches in your college as it helps you prepare and enhance your communication skills for relevant responsibilities in your future. More importantly, stay positive and persistent on your quest. Learn to manage your time and know that in each pursuit, you need to take risks and even if you fail, you should learn from it. No matter what, it's your vision and hard work, combined with your passion, patience, and knowledge will lead the way and help you pace in a clearer direction.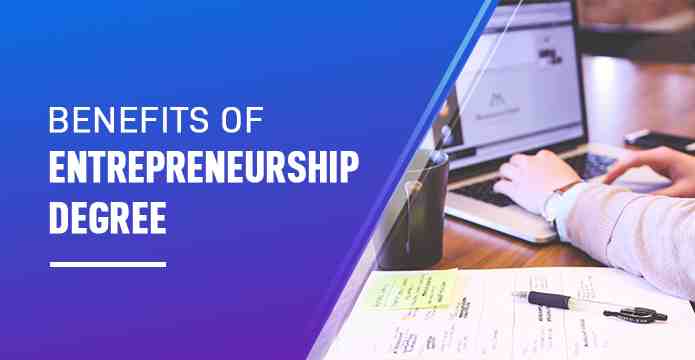 Benefits Of An Entrepreneurship Degree
Benefits Of An Entrepreneurship Degree: Necessity, undoubtedly, is the root of the invention. To put it simply, when your need for something becomes crucial, you are compelled to find ways and techniques to obtain it. For example, the outbreak of covid-19 urged the world to adapt to this sudden bizarre transition. The impact is so severe that it literally upended the entire procedure of life. With the increasing mortality rates, the health care system is depleted and the global economy is shredded. The crisis has revolutionized the perspectives regarding the traditional and manual way of life, inciting the digital age. Further, the seemingly continual waves of this pandemic have given rise to a series of scarcities. Therefore, to trim this demand, a ton of innovation is forced in almost every business sector.The need of the hour is to confront the crisis so as to wipe out the prevailing necessities. Also, it's crucial to gain insights to cater to the probable needs that would emerge after the lockdown ends. The crisis of now has stimulated the new objectives that would prevail as "new normal" in the post-pandemic era.E-learning, e-commerce, research, health care advisory, AI, including the learnings on strategic planning to reinstate the collapsed businesses should be prioritized. The pandemic has well signified the explosion of entrepreneurship ideas and has strengthened the visions of those aspiring. It's important to be mindful of the learnings enabling us to thrive in and beyond the post lockdown period.Aspirants with innovative ideas and wish to own a business should ensure to gain in-depth and realistic insights so as to thrive in the real business world. An Entrepreneurship degree can be of ideal start to your venture as the benefits of pursuing a degree in the same are infinite. The degree not only fosters new skills but will strengthen your ideas to kickstart your startups and management techniques to expand it. If you have assessed your career choices and want to pick up an entrepreneurship degree, then here are some actual benefits of choosing this
An entrepreneurship degree ideally outshines other business courses in terms of trade perceptions and skill development:In the present age, there exists a myriad of options when it's about choosing a business degree. Whether it's business management, marketing, finance, sales, etc., learners get to decide on it all based on their inclination. However, contrary to other degrees, an entrepreneurship degree prepares you beyond the basic elements of the corporation. Right from starting a business to developing and execution of agendas, from building a customer base to developing standard business skills, gathering equity for start-up, the degree will empower you with fundamental learnings.
A degree in entrepreneurship renders a practical conception of the business world:
If you want to kickstart your career, it's important to acquire real-world experience before you graduate. A degree in entrepreneurship does just that. The majority of institutions encourage students to build-up networks with other enterprises. Besides, practical learning and experience help the learners in understanding the basic necessities and skills requires to start up and operate a business.
An Entrepreneurship degree helps you learn business management trends and fresh ideas:
The only constant in the business world is the unpredictable speedy progression. Therefore, it's important to understand everything about the prevailing trends and the techniques to execute the same in a self-started venture. The entrepreneurship degree encloses the latest business trends. Besides, the educators in this field are well experienced and aware of the modern business trends. Accordingly, they hold the efficiency to convey valid insight on the same in an effective way.
An Entrepreneurship degree attracts many opportunities in comparison to other general business management degrees: If starting up your own business is your utmost objective, then you should as well have adequate knowledge and concepts of owning and handling business. A degree in entrepreneurship is crucial as the insights and skills your gain from it will help you reach your goal faster. If you are skeptical of starting your business right after you graduate, an entrepreneurship degree helps you choose a career depending on your academic skills and your knowledge in business operations. Opting for a career also helps in gaining tremendous industry experience, building networks, and sharpen your skills. All these will eventually help in gaining promising opportunities.
Pursuing an entrepreneurship degree allows you to experiment with unique concepts without encountering drastic consequences: During your course period, you will get opportunities to try out fresh business ideas and bring forth solutions to the probable crisis pertained to it. While in this experimental project, you get to comprehend the effective measures and potential risks without having to face any negative impacts. Such pragmatic experiments during your learning period enable you to identify your mistakes and your shortcomings before you step into the real business world. In truth, this process of learning the entrepreneurial skills will construct your aptitudes, design your confidence and decisions making skills even while the risk is high. You could do it because by the time you graduate you already would possess adequate experiences on everything expected.