Industrial visit remained an exciting learning experience for the students of Hospital Administration, from which they acquire insights into corporate culture and hospital operations. In the very first year of the course, the students of BBA HM initiated their visit to a healthcare industry for hands-on experience. The objective behind this type of practical training in the first year is to develop a spirit of industrial environment and exposure to various clinical and non-clinical departments of hospitals and health care organizations.
Inspiria Knowledge campus organized an industrial visit on 28.11.18. to Desun Hospital- Siliguri. A group of 39 students from BBA-HM 1st year along with two faculty members, Mr. Sougata Saha and Mr. Debasish Ray successfully toured the hospital. Students were taken into groups and one of the operations executives, Mr. Abhishek guided them with the explanation of various departments of the hospital.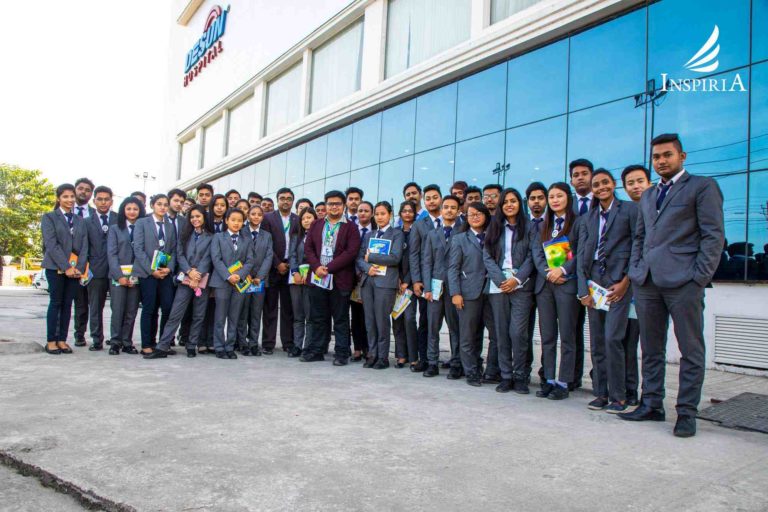 Desun Hospital is a 70 bedded, 11 storeyed, multi-specialty hospital with more than twenty specialties such as Cardiology, Nephrology, Neurology, General Medicine, Gastroenterology, Pediatrics, Emergency, and Intensive Care and Eyecare. This hospital is the only private hospital in Siliguri which owns a Burn Unit. The hospital provides all types of Investigations and Imaging services.
Students were excited to visit the state-of-the-art building with lots of modern and well equipped with advanced service facilities. The students started their hospital tour from the ground floor. They visited OPD Reception, 'May I Help You desk', TPA Desk, Corporate care centre, Health Check department and then they were moved to the Emergency Department. They saw the entire process of planned and non-planned admission and how an injured patient is moved inside the emergency. Students toured the top floor of the building where the In-patient wards are located. General Bed, Semi-Private wards, Private wards, and ICU was situated on that floor. Students have oriented themselves with the practical exposure of these clinical departments which they have studied in the textbooks.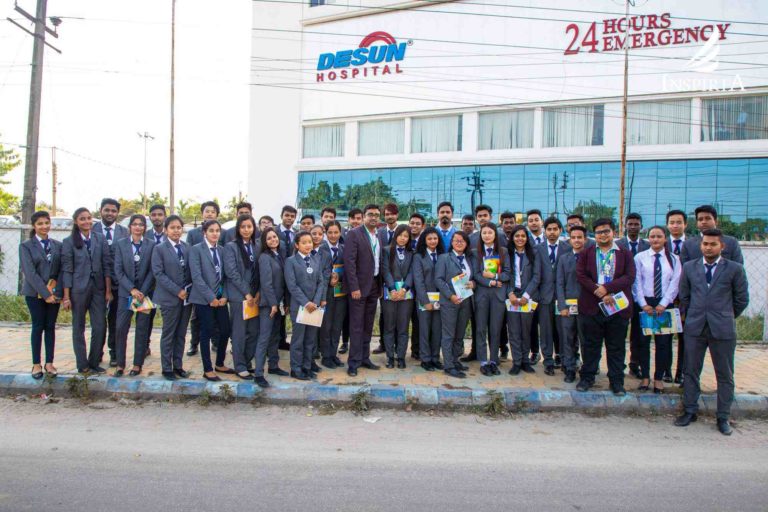 Later, the students surveyed various support and utility service departments such as Linen and Laundry, CSSD, Pantry, Cafeteria, Administration etc. The students viewed the Operation Theatre from outside. The hospital has multiple OTs for different types of surgeries like Cardiac, Orthopedic or Neurology. Excellent parking facility is an added boon to the hospital. The culture at the Hospital allowed learners and educators to extend support regarding a patient's safety. The security of the patients and hospital staff is of primary importance to them as they are constantly on the alert to avoid mishaps or misfortunes.
It was a wonderful and interactive visit, where the students understood the operations of various departments of a multi-specialty hospital and also witnessed the real-life scenario inside a large hospital. Ms. Neha Gupta from the HR department was very co-operative and Dr. Sailesh. Kr. Jha (General Manager) met the faculties and assured for future support in terms of training and placement.
Also Read: Inspiria's Industrial visit to Gujarat Cooperative Milk Marketing Federation Ltd