Today we will be looking at Eggs Benedict which is a popular American Breakfast option. It is basically a tender poached egg on top of a ham and muffin, topped with Hollandaise sauce.
The thing that fascinates me the most about this dish is the look and feel of the dish, it simply takes your breath away.
The perfect poached egg when punctured with a fork just oozes out running all over the plate. A delightful feeling!
But making this is not a piece of cake. It requires lot of patience and precision on your part. Nevertheless if it is done properly it will give you a pure satisfaction at the end result.
At Inspiria Knowledge Campus the Culinary Arts Students with Chef Anjani Nandan prepared this breakfast savory in their practical class.
Here we have replaced the English muffin with freshly baked bread roll and chicken sausage takes place of ham.
Egg yolk 2no
Butter/Olive oil 150ml
Crushed pepper 3 pc
Vinegar 3 tbsp
Salt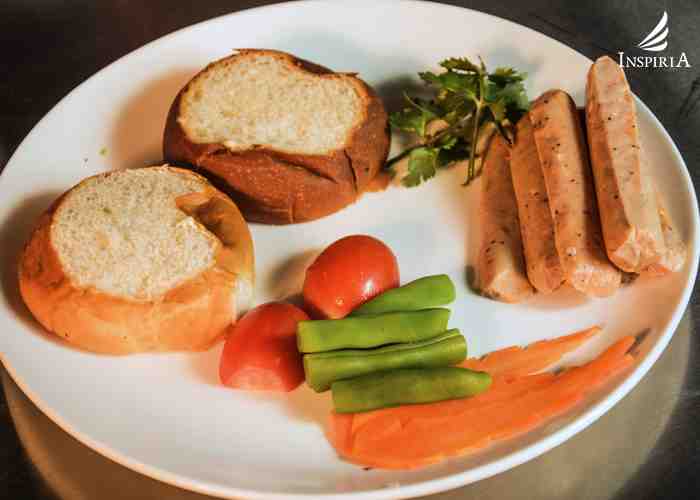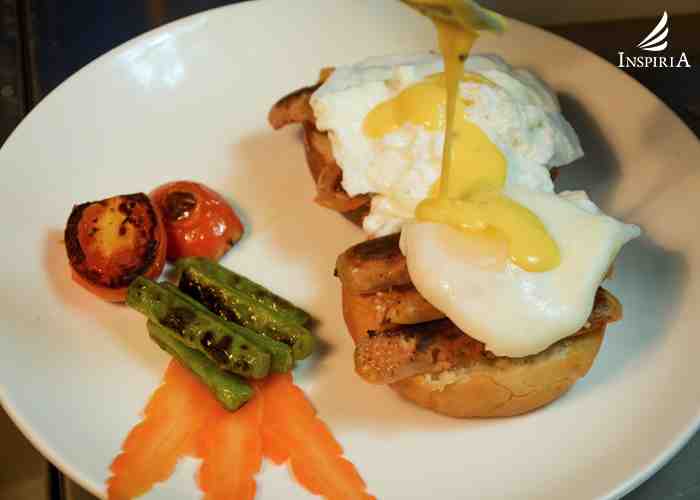 Directions:
Hollandaise Sauce:
Crush pepper, add vinegar and reduce it till just few drops remain.
⇩
Take egg yolk in a bowl, add the reduction and start to whisk. After a while place it over double boiler and continue to whisk till a creamy sabayon consistency.
⇩
Now start adding softened butter gradually taking care not to cook the eggs.
⇩
Make 2 poached eggs and keep aside.
⇩
Heat the pan with little butter, add the vegetables if desired, add the sausage and brown it.
⇩
Assemble-Place the toasted bread roll in a plate. Top it up with browned sausage slices.
⇩
Then place the poached egg on top and finish it with hollandaise sauce covering poached eggs.
⇩
Serve hot.
Learn more such exciting recipes by joining the Culinary Arts course at Inspiria Knowledge Campus