Top 10 highest paying jobs in India: Let's be honest, money is the best motivator when it comes to finding a career. We hustle throughout our academic stage to secure a job that rewards us just right for all the efforts and dedication we have put in. In the current context, the digital shift driven by the pandemic has pushed the rise of AI, Robotics, Machine Learning, Digital Support in healthcare, education, BFSI, pharma, including several tech-based startups.
And, if you are someone who is looking for the highest paying jobs, we have updated the checklist of the top 10 highest paying jobs in India. This checklist will help you point out the necessary job skills for acquiring the highest paying job in the modern job market.
Essential Insights:
Highest paying Jobs in India are primarily in Healthcare, Data Industry, Banking, Financial Services and Insurance (BFSI), and Digital Marketing.
The median salary range of most of the top jobs sectors ranges between Rs. 7 – 15 LPA. The highest salaries go as high as Rs. 20 – 40 LPA.
New-age careers like Data Science, Machine Learning have started replacing conventional jobs in the highest paying jobs list.
Please Note – Pay scales in various industries vary depending on employee's knowledge, training, and experience. The more you score in these domains, the better you are paid.
However, a successful career is not only decided by the amount you make. Career growth, job security, and reputation are what make a career attractive and successful. So, it is unreasonable to list the jobs based on the pay scale alone.
Besides, different industries pay different 'highest' salaries. It is unfair to compare the salary of a Chartered Accountant to that in Data Science or to that of the BFSI domain.
List of Top 10 Highest Paying Jobs in India
Machine Learning Experts

Blockchain Developer

Data Scientist

Medical Professionals

Full Stack Software Developer

Product Management

Management Consultant

Investment Banker

Chartered Accountant

Marketing Manager
Now, let's get started with our checklist of the 10 highest-paying jobs in India.
Top 10 Highest Paid Jobs in India in Detail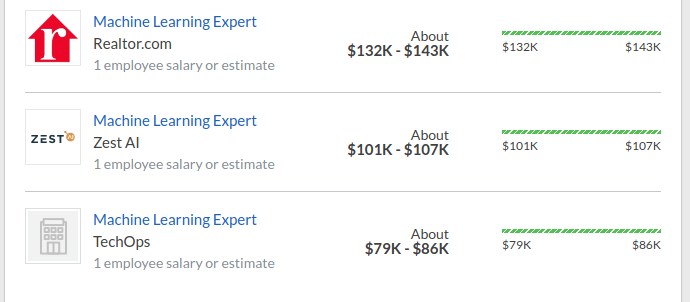 Machine Learning (ML) is a branch of artificial intelligence (AI). In the present world, ML is widely incorporated across industries, including IT, BFSI, retail, transportation, healthcare, education, and other businesses.
Machine Learning is regarded as one of the best jobs in India and across the world. Despite the adoption of ML technology is at a budding stage in India, the AI and ML market is estimated to expand substantially quickly.
The latest statistics reveal that the investment in the Indian AI sector will grow at a Compound Annual Growth Rate (CAGR) of 33.49% between 2018-2023.
Job profile
Machine learning is an application of AI wherein the system learns and improves on its own without being programmed. ML experts are the professionals who build all the self-learning systems that are just like the human brain.
With the speedy advancement of tech, Machine learning has secured the status of one of the highest-paying jobs in India and abroad.
Responsibilities of Machine Learning experts
To conduct analytical interpretation.
To adjust analysis results.
To instruct and retrain ML systems.
To operate on new ML exercises and schemes.
To invent ML programs and algorithms and execute them for suitable business requirements.
How to be a Machine Learning expert?
If you are an Engineering Graduate, Software & IT Professional, Data Professional with a minimum of 1-year experience or have a degree in Mathematics or Statistics, then you are eligible for Machine Learning jobs.Professionals with decent knowledge and understanding of Machine Learning can apply for the jobs or can take up a course in ML, that will familiarize them with algorithms, R/Python, probability, statistics, basics in data science, and ML.
Educational Qualification
B.E./B.Tech in Computer Science/Mathematics/Statistics/Information Technology or Data Science. Advanced degrees, such as postgraduate or doctorate degrees in equivalent fields are also highly valued in the industry.
Skills
Programming in R/Python.
Strong mathematical knowledge.
Excellent data modeling and data architecture skills.
Knowledge in working with ML frameworks such as TensorFlow or Keras.
Strong written and oral communication, interpreted as the capacity to prepare presentations, progress reports, and interactive data visualizations.
Ability to communicate complicated data into non-technical insights and reasonable decisions.
Machine Learning Expert Salary
The average salary for entry-level Machine Learning engineers in India is INR 691,892. Machine learning engineers with less than 1-year experience can earn INR 501,058 annually. Beginner-level experts make INR 698,443. After the machine learning professional gains more experience they make a massive amount of INR 1,948,718 annually.Python & Deep learning are the skills known to help raise the professionals' average salary. Bangalore has the most number of ML job openings followed by Delhi/NCR.
Companies Hiring Machine Learning Experts in India
Accenture – Mumbai
Zycus – Bangalore
capital Business Consulting – Mumbai
Quantiphi – Mumbai
IBM – Bangalore
ITC Infotech – Gurgaon
---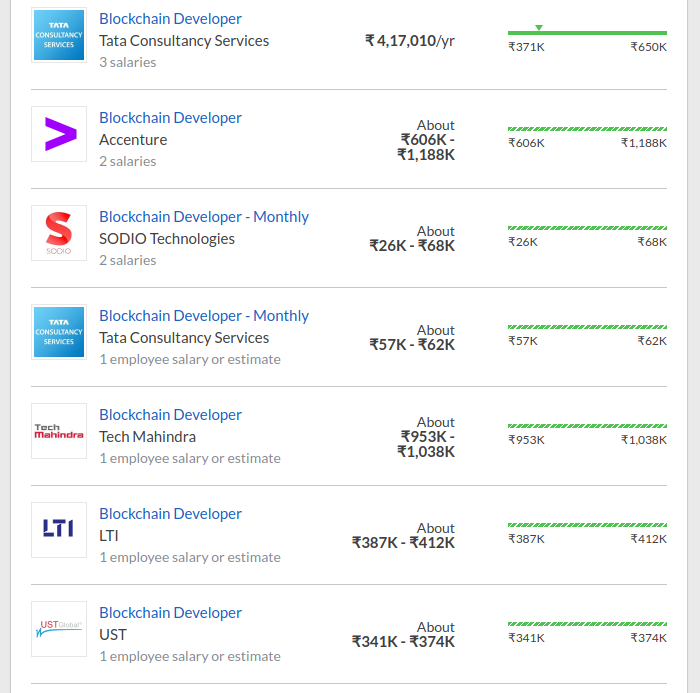 Blockchain is an innovative field that redefines everything from money transactions, internet connectivity, to data protection and administration. Blockchain technology cuts out agents, reduces costs, and develops speed and reach. It is considered to run in exceptional clarity and traceability.Blockchain Developers oversee and handle the entire lifecycle of Blockchain utilization. They build Smart Contracts, design interactive frontend interfaces of DApps (decentralized applications), and develop the structure of Blockchain systems/platforms.There will be considerable demand for blockchain experts because both private and public sectors begin adjusting to this new, market-changing technology.
Responsibilities of Blockchain Developers
To study, design, develop and test Blockchain apps and systems.
To assess and improve applications to keep up with the latest tools and technologies.
To manage and extend the client- and server-side applications.
To actively engage and be connected in the global Blockchain community.
How to Become a Blockchain Developer?
Engineering graduates, IT Professionals, Data Science Professionals having sound knowledge in Computer Science/Mathematics/Statistics can apply for Blockchain jobs.The best pathway to enter the Blockchain domain from these mainstream educational backgrounds is to take up a Blockchain certification course.Blockchain aspirants must be well-versed in a variation of Blockchain tools and technologies. Also, they must have prior coding practice.
Educational qualification
B.E./B.Tech in Computer Science/Mathematics/Statistics/Information Technology. Companies prefer candidates having a few years of prior coding experience in popular languages like Java, JavaScript, C#, C++, and Python.
Skills
Strong knowledge of Blockchain architecture, data fabrications, distributed systems.
Great training knowledge in Cryptography and decentralized applications (DApps).
Well-versed in web development and Smart Contract development.
High-grade knowledge of Blockchain applications like Etheruem, Hyperledger, Fabric, EOS, etc.
Blockchain Developer Salary
The average salary for Blockchain technology in India is INR. 8,01,938.Due to the lack of experienced professionals, organizations offer an attractive pay scale for the demanded skills. The excessive rising demand makes blockchain experts land on one of the highest salary jobs in India as professionals earn up to 45 LPA. Salary ranges between the following range –
0 – 3 Lakhs
3 – 6 Lakhs
6 – 10 Lakhs (27%)
10 – 15 Lakhs (23%)
15 – 25 Lakhs (25%)
25 – 50 Lakh
A significant gap in the demand and supply of blockchain developers influences the salary of blockchain developers as out of 2 million software developers in India, only 5k specialists own blockchain skills.
Top employers
Auxesis
Primchain
Signzy
Sofocle
SoluLab
OpenXcell
Elemential
MindDeft
---
Industry
Contrary to the other careers that have been around forever, data science is a relatively new and thriving option offering profitable packages. A big reason for taking up Data Science as a career, there has been a 40 percent rise in demand approximately for data scientists since January 2019, and more than 300% since 2013.Data scientist is considered one of the best jobs in India. The reason for this is vivid, considering everything today is data, and expertise in the science of managing that data is precisely what is required in the new-age work sphere.
Job Profile
A data scientist manages and organizes a massive amount of data that an organization collects. Further, he gathers actionable insights from that data to drive business decisions that improve profits and customer relationships.Data Scientists have a firm understanding of computer science, programming, statistics, mathematics, and analytics.
Responsibilities of a Data Scientist
To recognize important data sources and automate data gathering methods.
To refine and organize both structured and unstructured data.
To analyze huge volumes of data to obtain important trends and patterns.
To utilize data visualization techniques for implementing the opinions from huge datasets.
To create predictive patterns and ML algorithms.
How to be a Data Scientist?
Here is the most popular and valued way:
Graduates/Engineers can opt for PG Diploma in Data Science.
You can also obtain a Master's in Data Science.
Educational Qualification
Engineers – BE / BTech (no prior coding experience needed)
Graduates (no prior programming knowledge required)
Skills
Capability to work with complicated equations.
Knowledge of consumer psychology.
Business acumen.
Proficient at programming languages.
Data Scientist Salary
Data Science grants a payroll between 4 – 12 LPA to certified specialists even if they have limited or no work experience.  Data scientists with 5 years of experience make INR 60 – 70 LPA.
Average Data Science Salary
India – 9,50,000
Mumbai – 11,70,000
Bangalore – 10,30,000
Pune – 8,66,000
Companies Hiring Data Scientist in India
Amazon – Hyderabad/Bangalore
Walmart Labs – Bangalore
People Interactive – Mumbai
GreyAtom – Mumbai
Procter & Gamble – Hyderabad
---
Industry
Job profile
The job profile of medical professionals diversifies based on specialization.For instance, the responsibilities of a general physician are remarkably different from that of a psychiatrist or a surgeon.Still, there are some common duties of medical professionals such as checking patients, diagnosing their health problems, and treating them.
Responsibilities of Medical Professionals
Despite the variation in responsibilities of medical professionals, all doctors must perform the following duties:
To prescribe medications and administer proper treatment to patients.
To check a patient's symptoms and diagnose the medical problem.
To take accurate records of a patient's health problems and medical complexities.
To administer follow-up care of patients and assess the results of medical tests.
To collaborate with medical assistants, nurses, and other health experts for providing top-notch health treatments.
To constantly stay updated with the newest trends and findings in medical technology and research.
How to become a Medical Professional?
10+2 passed with at least 60% marks in the science stream with physics, chemistry, and biology (PCB) or physics, chemistry, mathematics, and biology (PCMB) specialization, from a recognized board of education.
To get into a good medical school, candidates must get through tough entrance exams like NEET, AIIMS, JIPMER, and other state-level/institute-level entrance exams.
To pursue post-graduation (M.D/M.S or M.Sc in Medicine), a candidate must have an M.B.B.S degree from a recognized school.
Educational qualification
To become a doctor in India, you must have an M.B.B.S (Medicine and Bachelor of Surgery) degree from an institution recognized by the Medical Council of India (MCI).While pursuing their postgraduate degree (M.B.B.S), aspirants can choose from specializations like Doctor of Medicine (M.D.), Master of Surgery (M.S.).
Skills
Quick thinking and problem-solving skills.
Compassion and willingness to help others.
Excellent communication and interpersonal skills.
Calm and composed nature.
Patience and concentration.
Attention to detail.
Medical Professionals Salary
In India, the average salary of healthcare professionals in India is around 10 LPA. More than 25% of medical experts make an annual package of 20 LPA. PayScale reports that the average pay of a General Physician in India is INR. 6,89,397 LPA and that of a General Surgeon's salary is INR. 10,78,167 LPA.Generally, the specialization stream determines the salary package of medical experts. Alongside traditional specializations such as Dentistry, Optometry, Pharmacy, domains like Healthcare Administration, Nursing & Medical Assistant, Home Health Aide, etc., have emerged as promising and high-paying healthcare avenues.
Top employers
AIIMS (All India Institute of Medical Sciences)
Apollo
Fortis
Max
Columbia Asia
---
Industry
The Indian IT/ITeS industry is predicted to expand to US$ 350 billion by 2025, generating about 2.5-3 million job openings over the country. This only confirms that the need for Software Developers, including Full Stack Developers is going to skyrocket in the upcoming years.
Job Profile
Full-stack developers are responsible for developing both the front end and the back end of a software/website. They should possess a solid understanding of database systems.As web developers, they build the website from scratch and write the code for it.Full-stack development is one of the highest-paid jobs in India. They work with the website's features, CSS, HTML and align it with the client's business and target audience.
Responsibilities of a Full-Stack Developer
To develop both the frontend and backend of the website layout.
To create user interactions on web pages.
To create servers and database functionalities.
To optimize applications for multiple platforms.
To design APIs.
How to be a Full-Stack Developer?
Individuals with BCA Degree, IT, or Computer Science can combine it with a full-stack development course including the basic programming languages. In a fast-changing system driven by the internet and tech, if you are searching for one of the best jobs in India, full-stack development is one.The course will help them understand how the backend of a website works, and the design elements that you need to know. Combine these with internships and projects to build and strengthen your portfolio.
Educational qualification
Full-Stack Developers must at least have a bachelor's degree, either B.E. or B.Tech in Computer Science/Information Science/Information Technology. Furthermore, they should possess a firm knowledge of computer programming in languages like Java, Python, C, C++, Ruby, etc.
Skills
Ability to work in a collaborative atmosphere.
Great perception of both frontend and backend design.
Excellent knowledge of the best software development practices and techniques.
Understanding of basic design skills and web architecture.
Knowledge of HTTP and REST protocols.
Detail-oriented with a drive for aesthetics.
Able to meet tight deadlines.
Fluent in Javascript, HTML, and CSS
Full-Stack Developer Salary
Entry-level full-stack developers make INR 375,000 per annum. Full-stack developers between 1 to 4 years of experience make INR 553,000 per annum. Mid-level developers with 5 to 9 years of experience make INR 1,375,000 per annum.
Top employers
Barclays
IBM
Dell
Siemens
E2logy
Simpalm
ChromeInfotech
---

India's industrial arena is unfolding rapidly. From IT firms, Data Science/Big Data-based companies, FMCG, retail, and telecom companies every business today follows a customer-centric strategy.Therefore, product concepts, development, and management are surpassing the forefront. Generally, Product Management has risen as a crucial role in the Indian industry. The market for Product Managers in India is predicted to increase doubly in the forthcoming years.
Job Profile
In huge organizations, product management is a much-coveted status. The product manager is responsible for the plan, marketing, feature definition, forecasting of the stock or product line among other things.In more simplistic terms, the product manager is responsible for understanding customer requirements, envisioning the essential features, and working with the design team to create them.If you are looking for high-paying jobs in India, consider the alternative of becoming a product manager. But before you jump to conclusions, make sure you have the enthusiasm for it.Product management is one of the highest-paid jobs in India. The roles vary from Associate Product Manager to the Chief Product Officer.
Responsibilities of a Product Manager
To establish the product vision, strategy, and roadmap.
To collect, prioritize, and manage market and customer requirements.
To develop business cases for new products and enhance existing products.
To collaborate with design, sales, marketing, and support teams to ensure that both business and customer goals are met.
How to be a Product Manager?
Product Managers require more than just a professional degree. To excel in this job, you need industry experience combined with a specialized course. This profession demands an eye for detail and must be well versed with organizational goals in terms of Product Development.Furthermore, you need to recognize how those goals align with real customer demands.Product managers should communicate with customers regularly and converse with the sales team members who understand the market need.He should also get on customer support calls to understand the feedback and improve the product accordingly.Aspirants can even pursue a Product Management course to gain in-depth knowledge on diverse subjects like consumer design, market research & analytics, product plan, and development.
Educational qualification
A degree in BBA or related fields like Economics/Marketing/Public Relations/Advertising/Communications is the key education criterion for Product Management roles. For the senior-level product management job roles, firms usually require advanced educational degrees.
Skills
Empathy and a keen eye for recognizing consumer requirements.
Collaborative as product managers will be working with diverse groups.
A refined taste for aesthetics.
Capacity to set deadlines and meet them for models, product development, and delivery.
Excellent communication and negotiation skills.
Product Manager Salary
The medium payscale of Product Managers in India is INR. 14,40,000 LPA. Freshers with limited work experience or no work experience in this domain can earn around INR. 7 – 8 LPA. Skilled professionals can earn between INR. 17 – 26 LPA. A higher pay scale is offered by large companies like Amazon, Flipkart, Ola, etc.
Top employers
Google
Microsoft
Amazon
Flipkart
Salesforce
Uber
Ola
---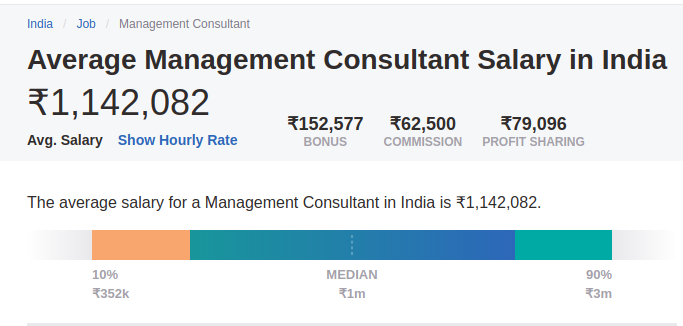 Industry
The Management Consulting industry is expanding at a Compound Annual Growth Rate (CAGR) of 30% in India. There are more than 10,000 consulting firms, with about 6,000 corporations established in just four metro cities – Mumbai, Chennai, Delhi, and Kolkata.
Job Profile
The main task of management consultants is to assist organizations to solve problems, improve performance, and increase growth. As a professional, you will be associated with the plan, formation, administration, and operations of the corporation.
Responsibilities of a Management Consultant
To hold meetings with clients to discuss areas of intended progress.
To conduct quantitative and qualitative analysis for a proposed resolution.
To exhibit the decisions from the reviews before the client.
To improve and present a strategy to perform the proposed solution.
How to become a Management Consultant?
A bachelor's degree in Business Administration (BBA)/Finance/Economics/ Accounting relevant fields is the best way to begin your career journey as a Management Consultant. You can further pursue an MBA Course to gain in-depth industry experience.BBA Degree is required for most corporations. MBA graduates are highly regarded in this field.
Educational qualifications
You need to have a bachelor's or master's degree in business-related courses. Although applicants from all fields can get entry in Management Consulting, specializations like Finance, Economics, or Accounting are given the utmost preference. At present, Management Consulting certifications are also gaining recognition and acknowledgment by many corporations.
Skills
The acumen for business, finance, economics, mathematics.
Teamwork and the ability to work in diversity.
Interpersonal and communication skills – verbal and written.
Problem-solving skills.
Ability to deal with challenges and pressure.
Management Consultant Salary
The average pay scale of a Management Consultant in India is INR. 11,49,770 LPA. Entry-level Management Consultants normally earn around INR. 6 – 7 LPA. And the ones with less industry experience make between INR. 8 – 11 LPA. For skill Management Consultants, the pay scale fluctuates from INR. 18 – 23 LPA.
Top employers
McKinsey & Co.
KPMG
PwC
Accenture
Deloitte
Ernst & Young
---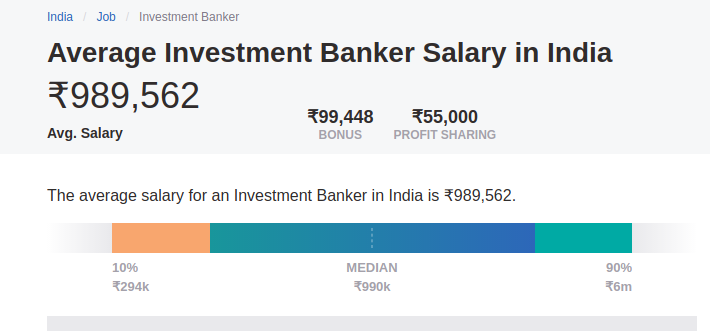 Industry
The diverse banking and financial services network of India is constantly expanding. With the new players entering the industry, the existing financial institutions as well are witnessing rapid growth. Thus, the investment banking sector in India is also expanding invariably.
Job Profile
Investment Banking is a high-demand job in India and one of the highest paying jobs worldwide. Investment Bankers provide numerous financial services proprietary dealing, negotiating securities, helping in mergers and acquisitions (M&As), and help their clients raise funds in capital markets by issuing bonds or marketing equity in the corporations.
Responsibilities of Investment Bankers
To develop various types of monetary patterns for debt and equity valuation for alliances, purchases, and capital-raising deals.
To direct clients on different investment events and promote product contributions, individual property deals, and partnerships and acquisitions.
To strengthen rapport with new and existing clients.
How to be an Investment Banker?
If you are looking for a skill-based approach, you can opt for professional degree courses that incorporate internships, projects to make you job-ready after you graduate. For choicest options, an MBA (Finance), MBA in Digital Banking & Finance are the best.
Educational qualification
The minimum qualification for Investment Bankers is a bachelor's degree in Finance/Economics/Mathematics/Business Administration or related subjects. An MBA in any of these subjects will add profound advantage.
Skills
Be very good with statistics/calculations
Have strong research and analytical skills since you'll be making suggestions about potential investments.
Be on your toes, at all times. After all, in addition to being one of the highest paying jobs in India, it is also a fast-paced one.
Have strong verbal, communication, and presentation skills since that is what most of your job will entail – convincing people or firms to invest in certain domains.
Investment Banker Salary
The medium salary of Investment Bankers in India varies from 4 – 40 LPA, making it one of the highest paying jobs in India.
Freshers or someone with the least job experience earn between 10 – 12 LPA. Mid-career & trained professionals make around 30 LPA and more.
Top employers
Goldman Sachs
JP Morgan Chase
Citibank
Deutsche Bank
HSBC
Axis Capital Ltd.
ICICI Securities Ltd.
IDBI Capital
---

Chartered Accountants are members of ICAI (Institute of Chartered Accountants of India), the exclusive national accounting organization in India. In 2018, the number of CAs in India stood at 2.82 lakhs.Presently, India suffers a massive deficit in this industry. For the 6.8 crore taxpayers in India, there are only 1.25 lakh, full-time practitioners in India.As the number of taxpayers in India continues to grow each year, the demand for CAs also surges simultaneously. CAs are hired to work as financial advisors in both large and small corporations.
Job Profile
Chartered Accountants serve in every industry and implement financial expertise for managing money properly.They present accountancy, tax, and audit services to clients and assist them to understand matters like the GST, every variation in taxation policies, or salary-related concerns.
Responsibilities of a Chartered Accountant
To maintain accounts and prepare financial statements.
To implement accounting systems and processes.
To prepare monthly financial reports.
To reconcile income statements.
To perform auditing and taxation services.
How to become a Chartered Accountant?
The CA course is regulated by The Institute of Chartered Accountants of India (ICAI), New Delhi. It has 4 important levels:
Common Proficiency Test.
Integrated Competence Professional Course.
3 years training under a practicing CA.
CA final.
Educational qualifications
Bachelors/PG in Finance with a minimum of 55% marks and intermediate level passed students of Institute of Company Secretaries of India and Institute of Cost Accountants of India can pursue the Intermediate course offered by ICAI.Graduates/postgraduates in other disciplines can also pursue ICAI's CA course, however, their minimum cut-off percentage is 60%.
Skills
Powerful communication skills to communicate complicated financial perspectives to your clients in an easy-to-understand manner.
Knowledge about the industry you're working in.
Sound numerical and analytical skills to be able to work with numbers and make efficient resolutions.
Chartered Accountant Salary
Starting salary for CA's is INR. 6-7 LPA. The pay scale can rise to 30 LPA or more depending on the experience and expertise. Global payrolls can reach as huge as INR. 75 LPA. Chartered Accountants with experience of 3 – 4 years make 8 to 12 lakhs.
Top employers
Standard Chartered
Deloitte
KPMG
Ernst & Young
BDO International
Grant Thornton International
---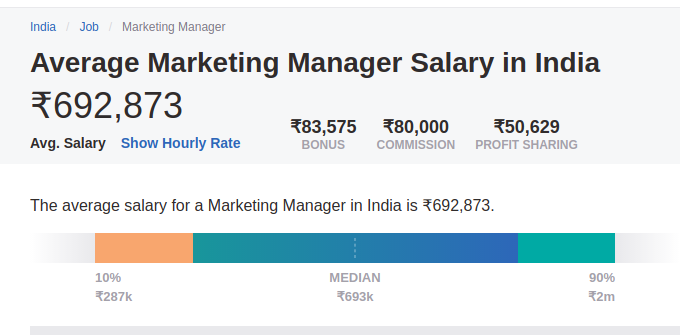 Regardless of the industry, Marketing is the backbone of every business. With the rapid digitization and technological progress, the marketing industry is expanding speedily. In the wake of the pandemic and the advent of the new normal, the sudden digital shift has revolutionized the digital marketing industry. With every business switching to digital platforms, 2020 produced an infinite range of job opportunities for marketing managers in the digital fora.
Job profile
Marketing Managers serve across diverse industries, including software/IT, automotive, banking, retail, manufacturing, etc.
They cooperate with product development teams to design innovative products and solutions that adjust with company goals and customer demands.
Responsibilities of a Marketing Manager
To conduct research, investigate the market demand, set pricing policies, identify a target audience, and determine the most suitable channels to reach the audience.
To generate brand recognition through suitable marketing strategies like emails, newsletters, contests, celebrity endorsements, etc.
To choose and execute a host of marketing policies, tools, and software to achieve business goals.
To inspect, evaluate, and outline the progress/failure of various marketing campaigns and strategies.
How to Become a Marketing Manager?
A bachelor's degree in Marketing/Management or other related fields is one of the best ways to becoming a Marketing Manager. You can gain a few years of working experience via entry-level roles to understand the basic elements of marketing job functions. You can get an MBA degree in marketing or management for getting an edge over the rest.
Educational qualifications
A Bachelor's degree in Marketing Management or Business Administration (BBA). But, applicants focusing on other areas like Accounting/Finance/Business Law/Economics/Statistics can also pursue this profession.
Utmost preference is given to anyone holding advanced degrees like MBA.
Skills
Efficient communication and interpersonal skills.
Strategic planning and problem-solving skills.
Team spirit and collaborative mindset.
Leadership and management skills.
Outstanding sales and negotiation skills.
Salary
The salary of a Marketing Manager in India is INR. 7,01,976 LPA. Entry-level professionals usually get around INR. 4 – 6 LPA. Mid-level experts with experience make between INR. 10 – 12 LPA. Skilled Marketing Managers make higher salaries, reaching around INR. 15 – 22 LPA making it one of the highest-paid jobs in India.
Top employers
---
Top Questions Asked On Quora
Inspirians get ready for the first semester final exams