Dolly's story starts with the first cake she baked as a young teenager – A lumpy cake sandwich, filled with cut fruits and covered with some molten Cadbury chocolate. Not very tempting! But she wasn't fazed at all, she kept on trying. But then, like many others, she lost the dream.
But after around a decade or so, an opportunity came knocking at her door to pursue this dream of becoming a full-time baker. And about a year and a half into baking, she is catering to the cake needs of the entire city from her own oven- her own company – "The Cake Box".
With the increase in demand for customised goods, how can cakes stay behind? She makes cakes that are crafted to emote special occasions, emotions and experiences. Customised cakes are crafted delicately to capture a moment or celebrate an event according to the client's needs.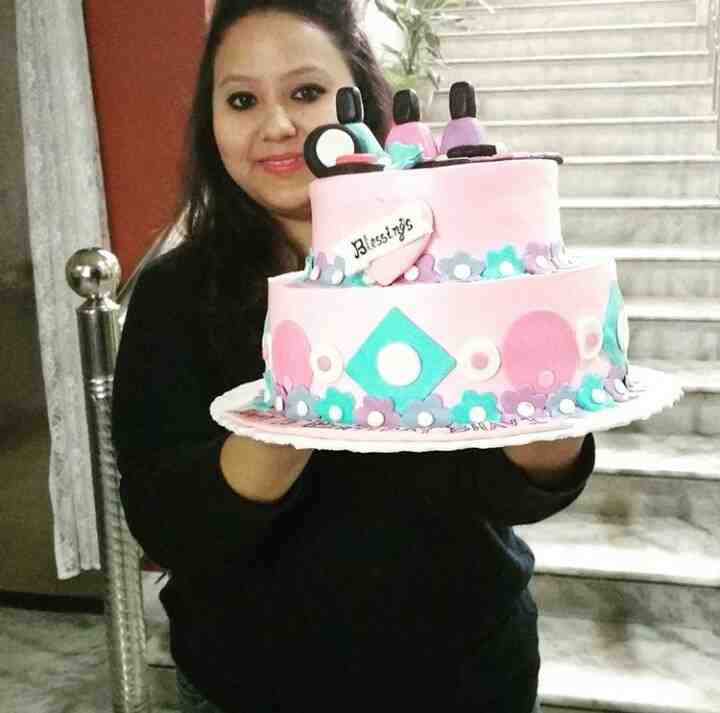 Dolly Thapa with her slef baked cake
The Cake Box offers all kinds of designer cakes and desserts, from the melt in mouth chocolate brownies to very pretty cupcakes, with over 15 flavours in the offer, she loves to spoil her clients with an array of sweet indulgences. She bakes cakes and desserts for every occasion. Her goal is to wow the customer with cakes that not only look great but also taste incredible – And everything is homemade with immense love and care.
The joy of a 10-year-old when she sees the princess cake she always dreamt of or the delight when a young boy gets a superhero cake is contagious; and is almost equivalent to Dolly's when she jump with joy every time she get an order that is more challenging, more intricate, more creative than the last one.

Wedding cakes sometimes take the centre stage and become the most important arrangement. With the celebration of the union of two people, the Cake becomes the statement of the day. As a small business venture, currently, the emphasis is on logistics building. Semi delivery model has been in function for the past 6 months; work is going on to make The Cake Box reach more customers. We are inching on the loyalty programme with e-coupon cards that customers can redeem upon their 2nd purchase.
Word of mouth has been her biggest marketing tool. A healthy buzz created by her loyal and vocal clients have over the months added to her business.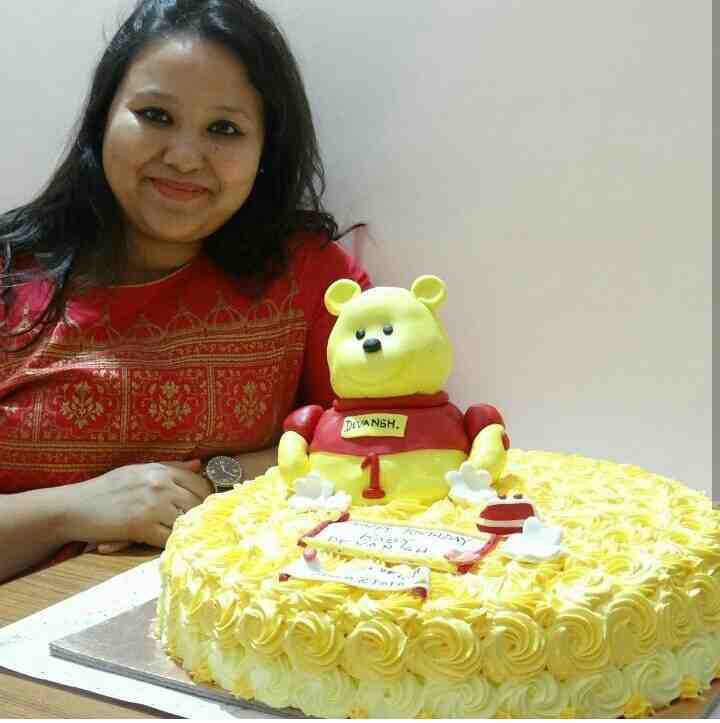 Dolly Thapa with her slef baked cake
She can be reached through social media platforms like Facebook and Instagram
Her USP is that she is a home baker which make her approachable to people of all age group. Apart from this business, she has been working as a visiting faculty at Inspiria Knowledge Campus for Baking for the past two years. Lecturing in a college gives her a platform to try and inspire more kids to create beautiful cakes and to enjoy the process of cake baking.
Dolly also conduct short-term Baking workshops in and around Siliguri annually. Teaching is an extension of her art, as much as she loves baking, she also likes to share her passion and exchange knowledge at every chance she gets.