Ujjal was nurtured in Cooch Bihar by his parents. The only son of his loving parents. He has been very active in sport activities of his school and local area. A tender inclination for computers developed within him in the 5th standard, Margaret (S.N.) English School. In school he failed in grades which discouraged Ujjal a bit.
Then, it was his friend who acted as a source of inspiration and regenerated the urge towards computers. His friend taught him to work on the system and Ujjal's affinity doubled towards computers. He loved spending time working on system and also studying hard. As a result, he scored the highest marks in computers from the 8th standard.
Ujjal loved Computers and Geography as subjects. He wanted to join the armed forces but could not on Physical grouds (under go surgery). So he deciced to create a software that will be helpful for the defence system. He admires the army way of life-stlye and the way they work dedicatedly.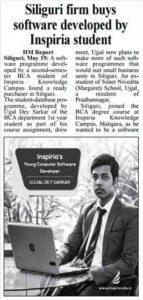 Now, initially he looks forward to work for a company and later start a software- business of his own. A highly potential boy who has already created a software in the initial years of his BCA i.e. before even the completion of first year. Plaease mark, he not only created the software but also successfully sold it in the market. His friends always told and provoked him that he has taken a wrong turn in life deciding to persuing BCA. But he has proved them all wrong by his drive and passion towards his aim.
A person full of fun and energy, loves adventures and bike riding. He desire to go biking to various hilly terrain like- Ladakh – a road alone. Seeing his father working with the risk of accident for N.B.S.T.C. has developed a strong aspiration to develop something that would reduce the rate of road accidents. Just wants to work hard to make his parents feel proud of his work.
We have a FREE take away pocket-book for you with some powerful mantras which will help you build a successful career! View it here or download it from our Slide Share Channel!