Whether it's the initial phase of the career hunt or the conclusive round of selection process, anyone would want to stand out from the crowd and get hired fast. But the harsh reality is, it's never that easy. The truth is, there is a cut-throat competition in the job market. For a single job posting, there will be a ton of anxious and well-qualified candidates. On the contrary, recruiters get even more exhausted as they need to appoint a promising candidate from the crowd of well-qualified competitors. Apparently, in the existing job market, a degree alone wouldn't be enough to secure the job you desire. There is no other way either but stand out amidst the crowd and make a good impression on your potential employers.
Considering these realities, we at Inspiria, are pushing our boundaries beyond academic assistance. Our idea is to support our students gear up for the future job since the beginning. We inspire and support their choices and aspirations without being biased in our guidance. And here is how we are helping them stand out in the modern job market and secure a career they want. So let's just proceed to know how and what they are:
1. Set up and provision of unique digital profile:
We not only focus on the existing system but on forthcoming prospects. Therefore, apart from enrolling the learners, we make sure they are valued for their feats. A digital profile contains definitive details of the students. Such as department, semester, including their schooling background, their remarks. Further, it demonstrates their existing status, interest, hobbies, achievements, and likely endeavors. Our purpose for creating and maintaining this exclusive e-profile is to encourage our students to put in more to their attributes. And, also build a powerful digital presence while they are still at college. At Inspiria, we include each student under our unbiased attention and ensure them to acquire the best guidance needed.

(Variety of productivity apps from Google made available to our students)
2. Creating e-Resume and Optimization:
E-resume! Is there a better alternative than this amid this digital rush? Traditional resumes are outdated as it fails to sum up the details of the candidates. In a manual resume, even the uniquely qualified candidate can appear practically indistinguishable. To stand out from the crowd and create an impact, you should adopt an effective way of demonstrating your skills and traits. At Inspiria, we help our students create their exclusive professional label with the support of an impressive e-resume. Here we help them incorporate their skills and career goals. If at any point, they get an opportunity to endorse themselves to a potential calling that can submit their pre-updated e-resume on the go!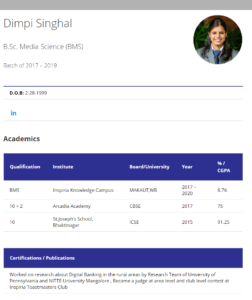 (Find all the e-resume of students under our Training & Placement section)
Also Read: Top 7 Tips to Better Email Etiquette for Students
3. LinkedIn set up and Makeover:
LinkedIn is important for everyone. At Inspiria, we uphold the practice of building a strong LinkedIn presence. So, we set up a LinkedIn profile for all the students since the advent of their academic session. Our purpose is simple and reasonable because LinkedIn is the most influential online catalog of organizations, recruiters, professionals, job seekers, and learners. It's of utmost importance for individuals to build a vast professional network so as to learn, grow, and build a desired career with the help of this forum. As an educational organization, we not only take-up LinkedIn as a job-hunting platform but also recognize it as a learning forum where the learners can gain infinite knowledge and inspiration on careers and for life. Unlike the traditional resume, your LinkedIn profile articulates your background and skills, your interest, and your achievement It keeps you from the hassle of drafting and forwarding your resume to the recruiters. Since years, companies and hiring managers use LinkedIn to find suitable candidates. So, why wait or procrastinate until you start job hunting?
The Ultimate LinkediIn Profile Checklist For Students from Inspiria
4. Video resume for a powerful impression:
In this increasingly digital age, a video resume can work wonders in comparison to traditional paper-based resumes. A video resume is an ideal way to represent yourself virtually and vocally. It ideally integrates your overall tone and personality with your skills and qualifications. In a hindsight, it truly attains the criterion of a perfect representation of a candidate. A video resume, therefore, fosters an advantage over other forms of resumes, without requiring physical presence. At Inspiria, we have long embraced this approach of creating an impact, regardless of one's career aspirations. It not only bestows them with the prospect of immediate attention of potential employers but also boosts their confidence, impacts their personality and mission.
(Video resume of one of our student, crafted to stand out in the eyes of recruiters)
To conclude, our approach to education is not just limited to the theoretical framework. It's rather realistic and purpose-driven. Our goal is not only to create a certain number of graduates but bring out a promising and reliable lineage that can nurture a better community.